Evangelical Covenant Church
Missionaries
History
Dear Covenant family of supporting churches for the Westlind family in Argentina:
Greetings and blessings in the name of our Lord Jesus Christ. As always, we are so grateful for your prayerful and financial support. We have been grateful for this support for the last 21 years of our ministry; starting first in Costa Rica at language school, moving on to three different cities in Colombia, a three year assignment as rotating professor of missions at North Park Theological Seminary , and finally the last three years here in Buenos Aires, Argentina. It is therefore with very mixed feelings that we notify you of a change in our future. After much prayer and consideration, we sense that the Lord is moving us in a new direction for the upcoming chapter of our lives. This comes after much deliberation and is not something that we have delved into lightly.
Mark has received a call to be the new mission director for a Presbyterian church in California and he has accepted said position. This position begins August 1, 2008. This has not been an easy decision as we are loyal Covenanters five (5) generations deep! Mark will be keeping his ordination and Covenant credentials active and serving as a Covenanter beyond the denomination. We will be arriving in Chicago on June 25th, bringing to a close this latest three year field assignment.
We have deeply enjoyed our association as career missionaries with the Evangelical Covenant Church and are indebted to you for our exposure to a wide variety of ministry opportunities. Thank you so much for your continued caring concern, prayers and friendship in the journey. Your financial support has been our sustenance and life blood throughout our 21 years. Our prayer is that you would consider transferring your financial and prayerful support by designating it to another Covenant missionary family as this commitment to relationship benefits greatly both the church and missionary. Our children have often mentioned the significance of your cards and letters of personal attention to them throughout their growing, formative years. They will miss you!
Finally, we pray for each and every one of you and are hopeful that our paths will still cross in a variety of ways through the coming years. We will still be attending mid-winter conferences and fulfilling requirements that keep Mark's Covenant credentials current. May God continue to richly bless your ministries and the greater ministry of the Evangelical Covenant Church throughout the world.
Much Love and Affection in Christ,
Mark and Alice Westlind
Family 2006
Mark and Alice Westlind Family Missionaries to Buenos Aires, Argentina
Hola to all of our friends and supporters! Here's the latest!
March 31st brought about the passing of Alice's father in Walker, California.
Thanks to some wonderful friends we had made here in Buenos Aires, funds were loaned to us so that Mark and the girls could make the trip back for the funeral.
The Dept of World Mission also was able to cover the cost for Alice's flight. Alice's mother is now living in Chicago with Alice's sister and adjusting to her new life there.
Alice and Mark shared in the preparations and commemoration of Ray's life at the funeral along with Mark's father, Rev. Gordon Westlind.
Thank you for your support throughout this difficult time.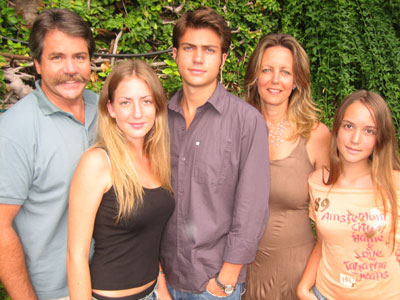 We were blessed to have Nils here for our very first Christmas in Argentina and Voilá….our newest family picture.
Many thanks to those of you who have prayed for our family and ministry throughout the years.
Nils is now 21 years old, Natalia is 17 years old and Nicole is 14 years old, Mark and Alice….well let us just say that 50´s are a groove.
In the new year of 2007 we will celebrate 30 wonderful years of marriage and 20 years as missionaries!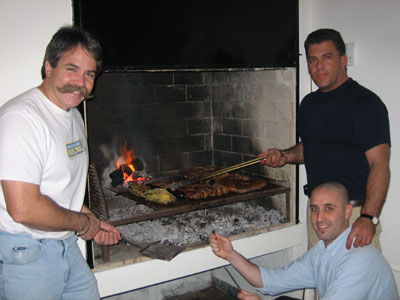 As you may or may not know, Argentina is famous for its beef.
"Asados" or BBQ, are a way of life here and literally everyday you experience the wonderful aroma of beef roasting on the grill.
Mark is pictured here with two of our new Argentine friends Martín and Christian.
They have graciously agreed to mentor us in their culinary cuisine.
The Argentine art of BBQing is not what we are accustomed to but we have definitely fallen in love with this "Gaucho" lifestyle.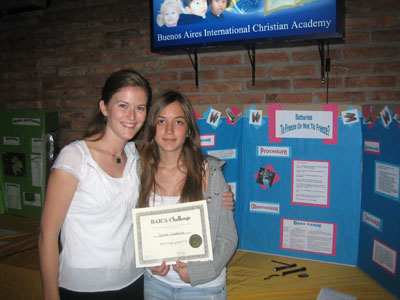 Nicole is happily pictured here with her Science teacher, Mrs. Bulat, after winning the school Science Fair.
Buenos Aires International Christian Academy or BAICA, provided a positive experience for both Nicole and Natalia as they transitioned to a new life here in Argentina.
They are now attending a much larger school, an International American School of Buenos Aires named Lincoln and thankfully it seems to be a better academic fit for both Natalia and Nicole.
Thanks to your prayers on their behalf, they are happy and adjusting well to their new surroundings.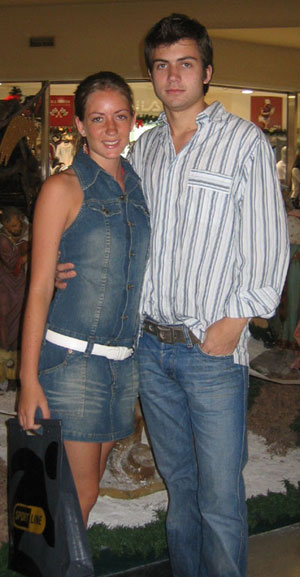 Natalia is a senior this year and hopes to follow in her brother's footsteps and attend North Park University in the fall of 2007.
Nils has chosen International Business as his major and has completed his minor in Spanish.
Nils, along with his long time buddy Joey Funk, have developed a unique clothing line and have recently Incorporated their business.
Thanks again for remembering our kids in your prayers !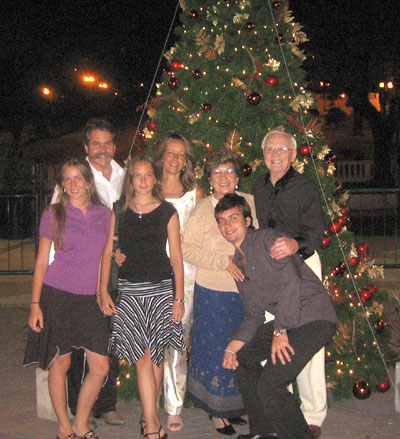 As you can see by the photo, we celebrated a great first Christmas here in our new home country of Argentina.
We were once more blessed with the visit of Mark's parents, Rev. Gordon and Pat Westlind and we all had a fabulous time together. The celebration of Christ's birth is a very holy and significant time of year in Argentina.
After Christmas, all 7 of us took buses and trains to the impressive city of Buenos Aires, only 20 minutes away.
We visited the famous Recoleta Cemetery where Evita Peron is entombed. We saw Tango dancers on the streets of Caminito, took a ferry into the country of Uruguay, we thundered along the Pampas on horseback with real Gauchos and feasted on their traditional outdoor grill.
We Praise God for His goodness to us through family and friends like you!

Family 2005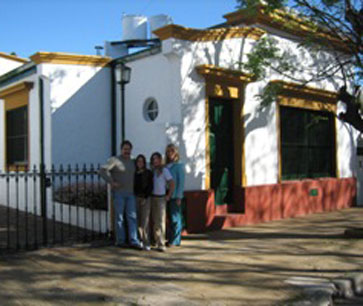 We left Chicago on a simmering hot 97 degree day and arrived in Buenos Aires to a temperature of 65 degrees, their winter time.
The wonderful news… it doesn´t get too much colder here! My kind of town!
We are standing in front of our new "digs" in Buenos Aires minus our number one son, Nils. (See info on Nils with his photo)
To contact us: alicewestlind@yahoo.com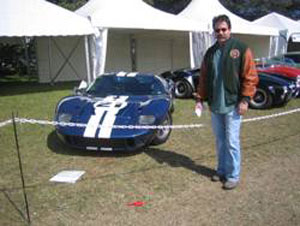 As many of you know, I am a car buff from way back and we were able to see a concourse show at the polo grounds. Yes Virginia , these are REAL (not replicas)!! Front is a 1966 Ford GT 40 and behind me is a black 1965 427 AC Cobra and a red 1964 289 Cobra. (Since I had a couple of Shelby Cobra GT 350´s in college, you can see why these have remained my favourites through the years)! Due to escalation in price values, personal appreciation is all I can do now! Ha!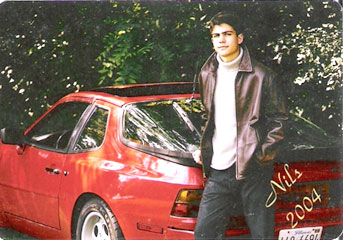 Nils is currently representing the family in Chicago while attending North Park University.
We´re glad that he´ll be home for Christmas! And that home is now Buenos Aires , Argentina !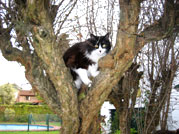 Checkers in his new backyard tree…… pomegranate to be exact.
He is missing his partner in crime, Aboo, left behind in Chicago .
Now for a little sleuthing of our own….the fellow below is the reason for Checker´s being "treed."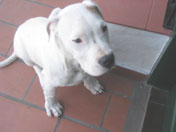 He is a 3 month old Argentine Dogo named Gaucho. He weighs in at 40lbs and is a definite "tank!" (supposedly will top out just under 140lbs) His nickname is fathead and you can see why!
All he wants to do is have fun, but try to convince our feline of that one and we´ll give you the prize of the month! (I don´t even know what that is!) Since his breed was bred to hunt wild boar and pumas, he must just be doing what comes naturally.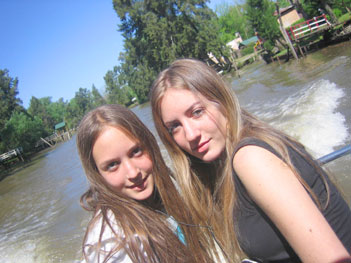 The girls both said some very hard good byes to their friends and brother at the Chicago airport. Definitely the hardest good bye time we have ever experienced!
After a total of 5 years in Chicago they both became quite attached to their schools, Ravenswood & North Park Covenant Churches , Latin Club, Basketball, Soccer, Flute, School Dances, Piano, Starbucks and Chicken Nuggets!
Their summer was cut short as their new school in Argentina started the beginning of August. We landed and began our rush to buy all necessary school items and UNIFORMS! Their new school BAICA, Buenos Aires International Christian Academy , is just five blocks from our new home which is a blessing to us as we do not have a car yet.
The school is small, 120 students and is taught in English as a first language. The girls have been teased a little for their Colombian accent because the Argentine accent is completely different! It sounds like an Italian speaking Spanish and many of the words we learned in Colombia are not used here so we are all learning a whole new vocabulary.
Natalia, a junior, will graduate in 2 years from BAICA and Nicole, an eighth grader, will let us know if we will return to the States or if she will finish all of her high school years here in Argentina . ¡Si Dios Quiere!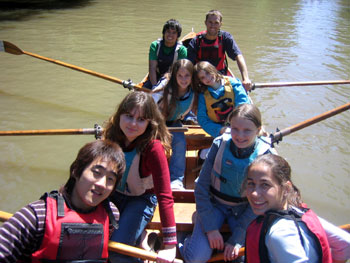 Here I am, Nicole, with my new class rowing down the Parana River in Tigre , Argentina . In my new school we have "mini-mesters" which are free days when we can choose different activities.
In this picture my new friend from Switzerland named Saskia and I are rowing in a race against the other kids. We rowed for a long time and won the race even though we lost one of our oars!
We each won t-shirts for being the best rowers! We spent the rest of the day in the sand on the river beaches, it was a perfect day!